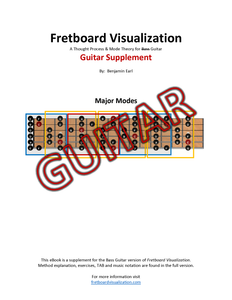 You asked for it, so here it is.  Guitar versions of all the relevant graphics from the 4-string bass eBook Fretboard Visualization - Volume One!  It is perfect for the guitar player that is curious about the FV method.  It contains over 50 pages of colorful 6-string guitar fretboard graphics, which show the key to learning to play the WHOLE FRETBOARD. 

Learn the Fretboard Visualization method by following along with the full bass guitar version
Learn to smoothly play the WHOLE FRETBOARD
Learn every Major Mode in all 12 keys (perfect scale reference guide)

Practice suggested modes with interesting chord progressions
-This eBook DOES NOT CONTAIN:
Method explanation/lessons, exercises, TAB or music notation.
-This item is
ONLY A SUPPLEMENT
for
GUITAR
fretboard graphics, and is intended to be used with the full 4-string bass guitar version of
Fretboard Visualization - Volume One. 
eBook sold separately.
-Volume Two DOES NOT have a guitar supplement